Recipes
5 delicious midweek salmon recipes you have to try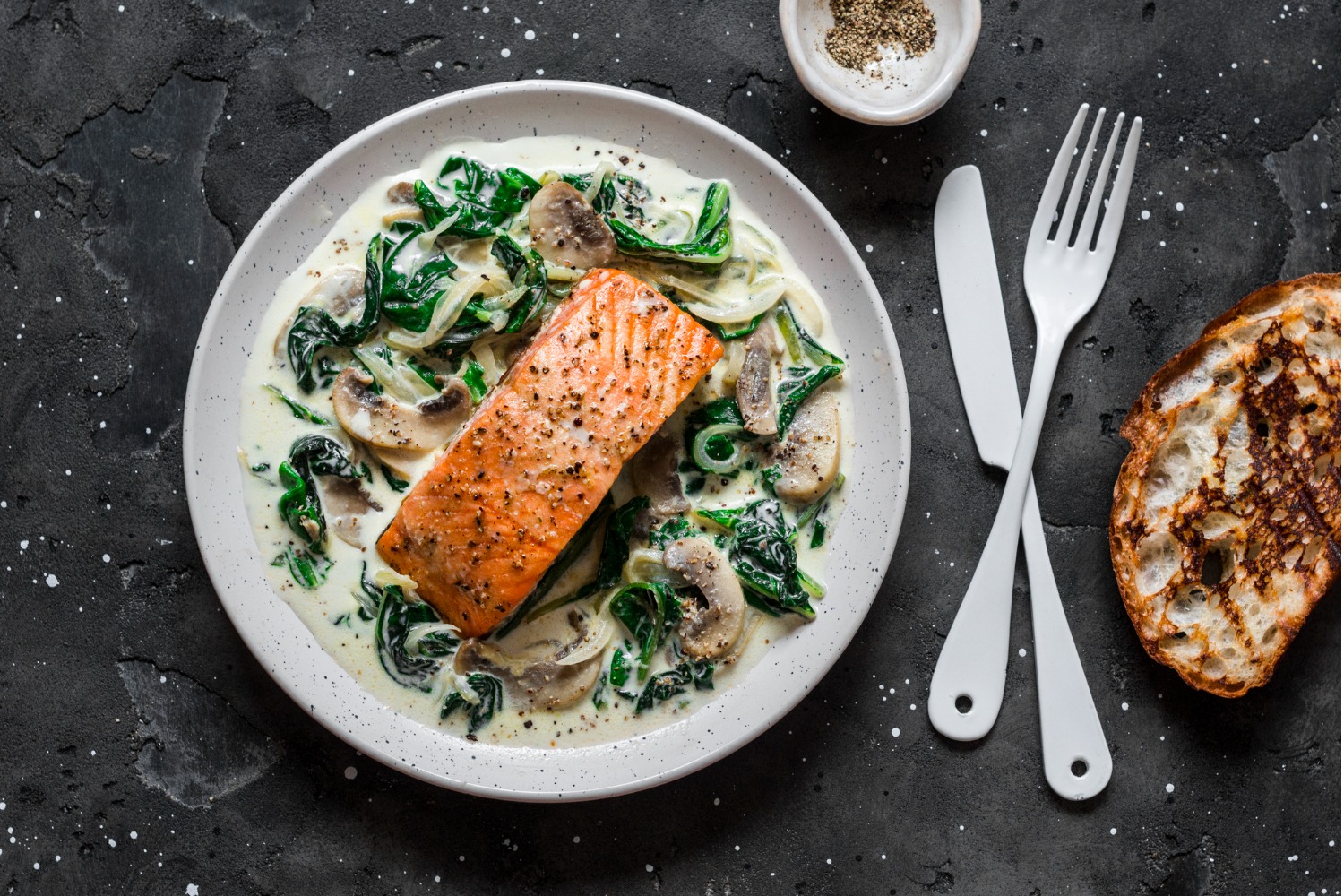 Salmon lovers, get creative with the way you prepare your salmon by recreating these mouthwatering salmon dishes.
These yummy salmon recipes are easy to prepare and can be enjoyed throughout the week if you and your loved ones simply cannot get enough of salmon.
Pair your salmon dishes with a fresh garden salad.
Teriyaki glazed salmon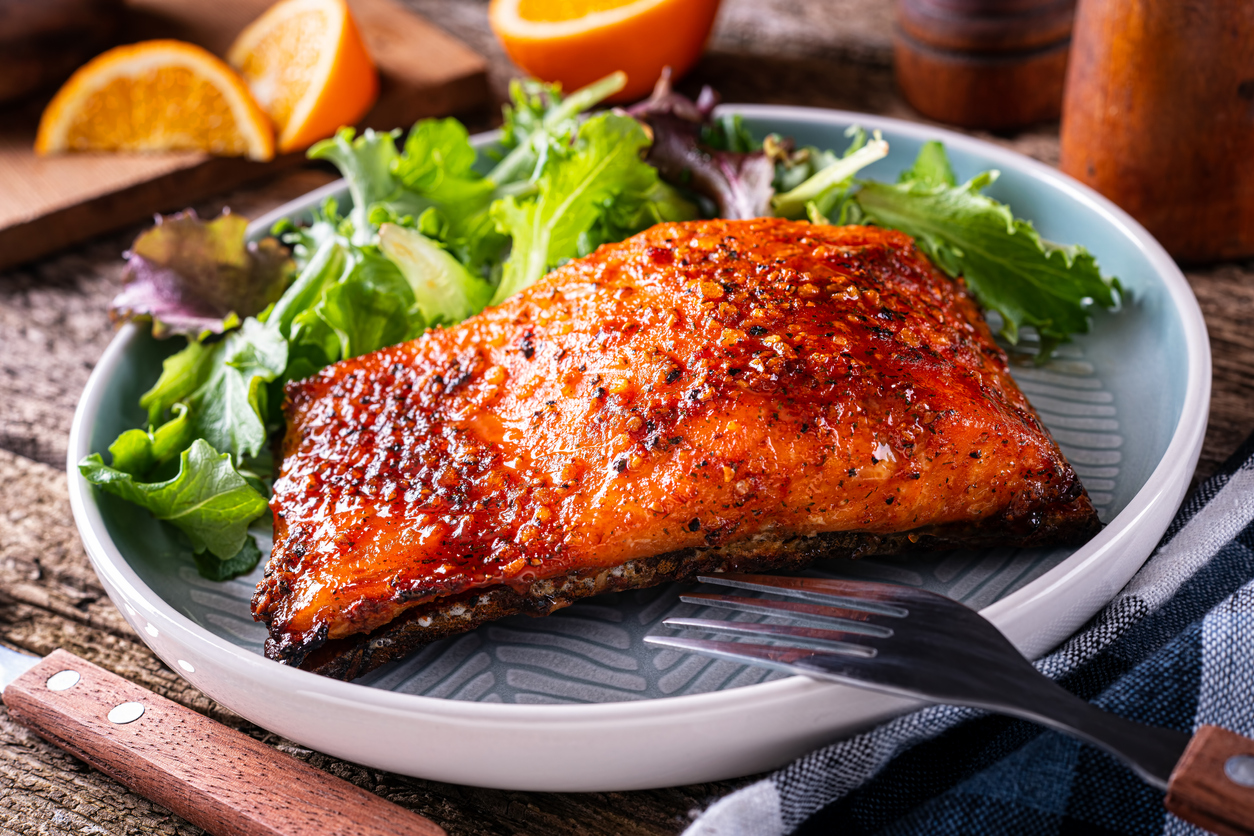 Ingredients
1kg of salmon fillets
½ cup of soy sauce
¼ cup of brown sugar
½ teaspoon of minced ginger
2 cloves of garlic, minced
½ tablespoon of rice wine vinegar
177ml of pineapple juice
1 tablespoon of cornstarch
2 tablespoons of water
Sliced green onions, for garnish
Sesame seeds, for garnish
Instructions
Preheat oven to 180 degrees Celsius. Line a rimmed cookie sheet with aluminum foil and spray with nonstick cooking spray. Set aside.
In a small sauce pan, combine soy sauce, brown sugar, ginger, garlic, and rice wine vinegar and bring to a simmer over medium-low heat. Stir and cook for five minutes.
In a small bowl, combine the cornstarch and water, mixing well. Add to the pan along with the pineapple juice, and allow mixture to return to a simmer. Continue cooking for 5-10 more minutes until mixture thickens and coats the back of a spoon. Remove from heat and allow to cool slightly.
Pat salmon fillets dry with a paper towel and place on the prepared cookie sheet. Spoon glaze generously over the tops of each fillet. You will have some left over!
Place pan in the upper half of the oven and cook for 10-12 minutes. Remove pan from oven and add a small amount of leftover glaze to the top of each fillet. Turn oven broiler to high and broil the salmon for an additional 2-3 minutes.
Garnish with sliced green onions and sesame seeds. Enjoy!
This recipe was found on belleofthekitchen.com
Baked salmon and wild rice casserole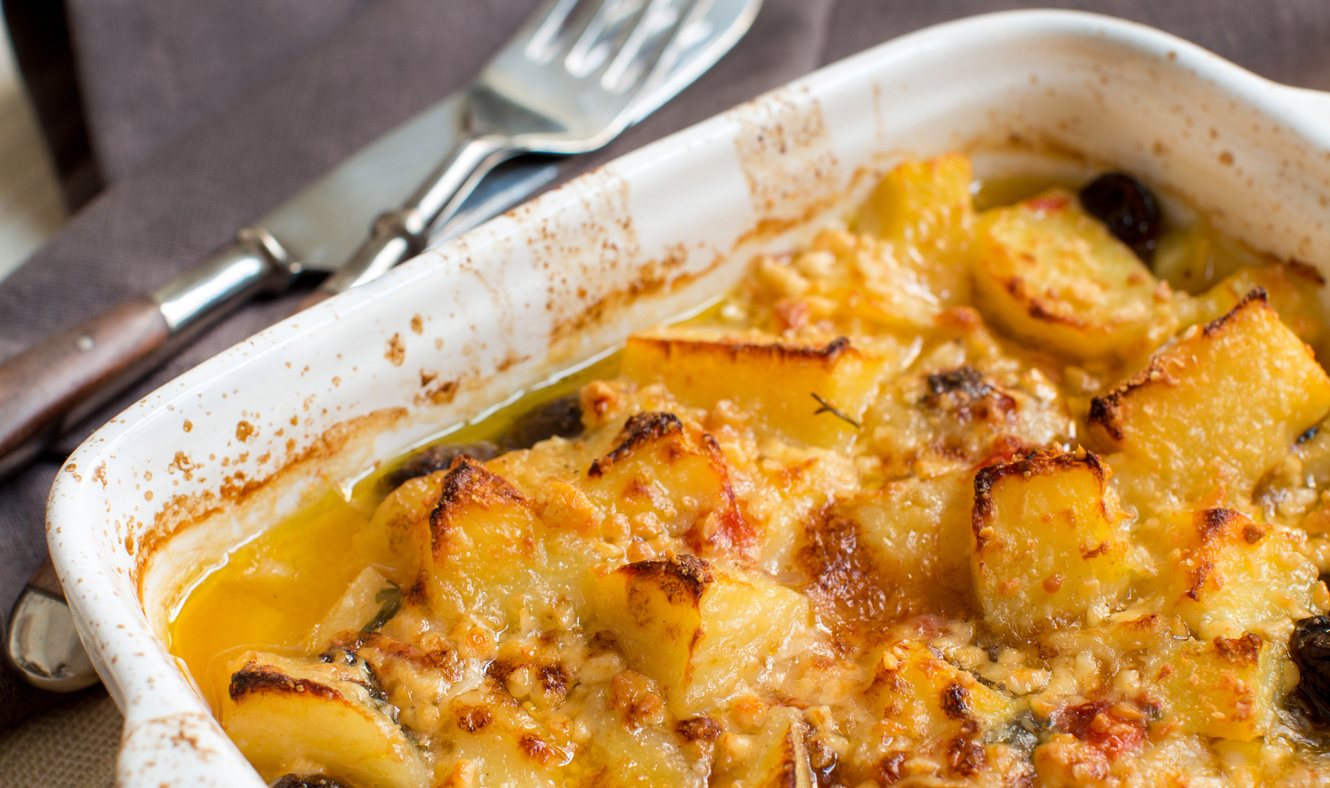 Ingredients
2 tablespoon of olive oil
2 cups of finely diced potato
1½ cups of sliced leeks
1 cup of diced carrots
2 cloves of garlic, minced
3 cups of cooked wild rice
1kg of salmon, skin removed and cut into squares
3 tablespoon butter
3 tablespoon all purpose four
1½ cups of chicken stock
1½ cups of half and half
1½ tablespoon of your favorite Cajun seasoning
¼ teaspoon of salt
¼ teaspoon of black pepper
¼ cup of grated fresh Parmesan
ALSO READ: Recipe of the day: Three-ingredient biscuit recipes you have to try
Instructions
Preheat the oven to 180 degrees Celsius. You will also need a deep baking pan or equivalent.
In a large pan heat the oil and add the diced potato. Cook until the potatoes feel soft when poked with a sharp knife.
Add the leeks, carrots, and garlic. Stir and cook for about 6-8 minutes.
Turn of the heat and add the wild rice and salmon chunks. Set aside.
In another pan, melt the butter and then add the flour over a medium heat.
Stir well until the mixture gets thick.
Gradually add the stock whisking well after each addition to avoid lumps.
Bring to a simmer and start to gradually add the half and half.
Simmer for 5-6 minutes then add the cajun seasoning, salt and black pepper.
Pour the sauce into the pan with the salmon and rice and gently mix everything together.
Transfer the whole casserole to a baking pan or equivalent and sprinkle the Parmesan over the top.
Bake in the oven for 30 minutes and the edges are bubbling.
Serve at once.
This recipe was found on foodnessgracious.com
Salmon pasta with homemade pesto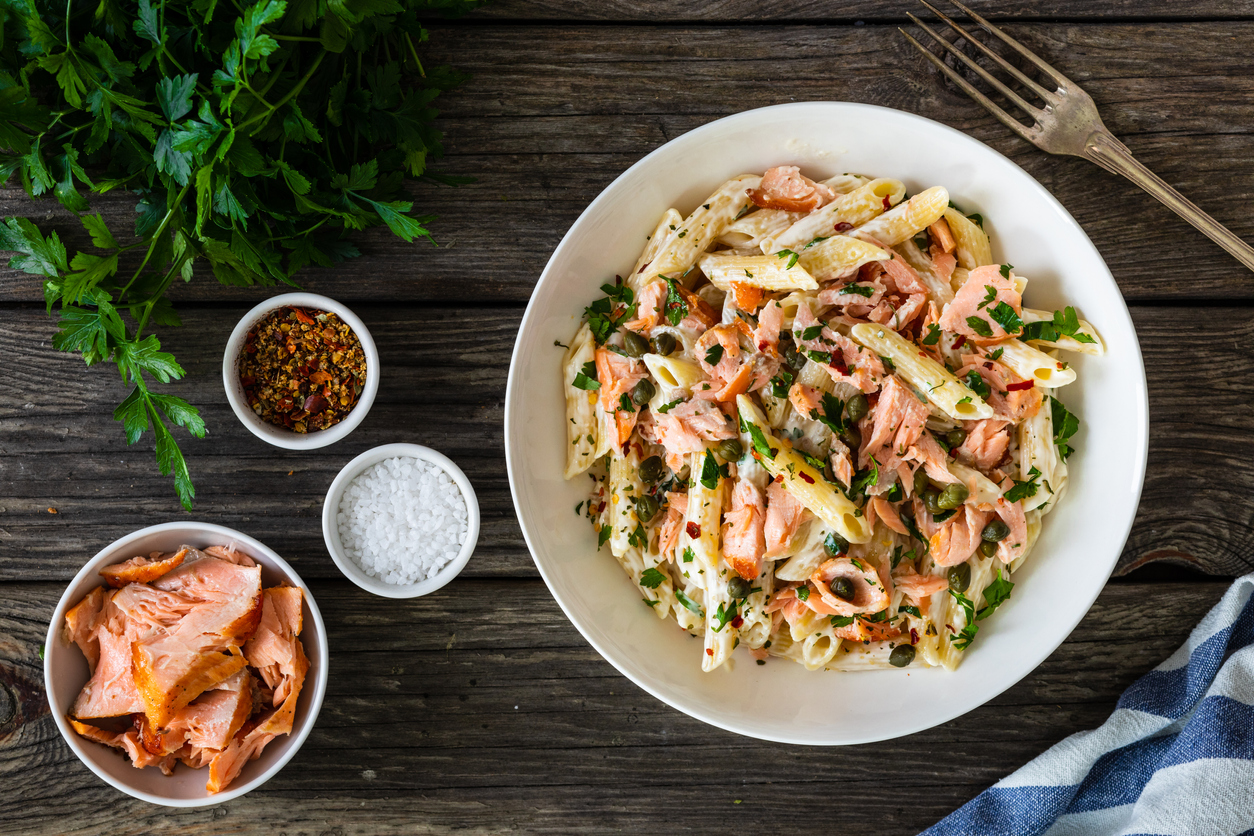 Ingredients
500g of salmon filet
500g of orecchiette, or any pasta you love
250g of green beans, cut into tiny pieces
1 cup of pesto
1 tablespoon of lemon zest
Half cup of fresh parmesan cheese, grated
Instructions
Roast salmon on a foil-lined, rimmed baking sheet at 180 degrees Celsius for 10 min.
Bring a large pot of salted water—it should be as salty as the sea to a boil.
Cook pasta according to package. When the pasta has just about a minute left, add the green beans to the pot.
Drain the blanched green beans and pasta then toss is with the pesto, lemon zest and salmon broken into pieces.
Sprinkle it with the parmesan cheese and serve.
This recipe was found on themodernproper.com
Creamy garlic, lemon and spinach salmon
Ingredients
2 sweet potatoes
1 tablespoons of olive oil or rapeseed oil
2 salmon fillets, skin removed
2 garlic cloves, thinly sliced
170g of baby spinach
1 lemon, zested and half juiced,half thinly sliced
75g of mascarpone
5 tablespoons of milk
Instructions
Heat oven to 180 degrees Celsius . Pierce the sweet potatoes a few times each and microwave on high for 5 mins until soft (alternatively, bake for 35-40 mins). Keep warm until ready to serve.
Heat half the oil in a frying pan and lightly brown the salmon on both sides – don't worry about it being cooked through at this point. Transfer the salmon to a plate, wipe out the pan and heat the remaining oil. Cook the garlic for 30 seconds, without letting it brown, then add the spinach, lemon zest and juice and some seasoning. Stir in the mascarpone and 2 tablespoon of the milk and cook until the spinach has wilted.
Tip the spinach mix into an ovenproof dish and top with the lemon slices and salmon fillets. Bake for 5-8 mins until the salmon is cooked through.
Meanwhile, scoop the sweet potato flesh from the skins and mash with the remaining milk and some seasoning. Serve the sweet potato mash alongside the salmon and creamy spinach.
This recipe was found on bbcgoodfood.com
Coconut salmon curry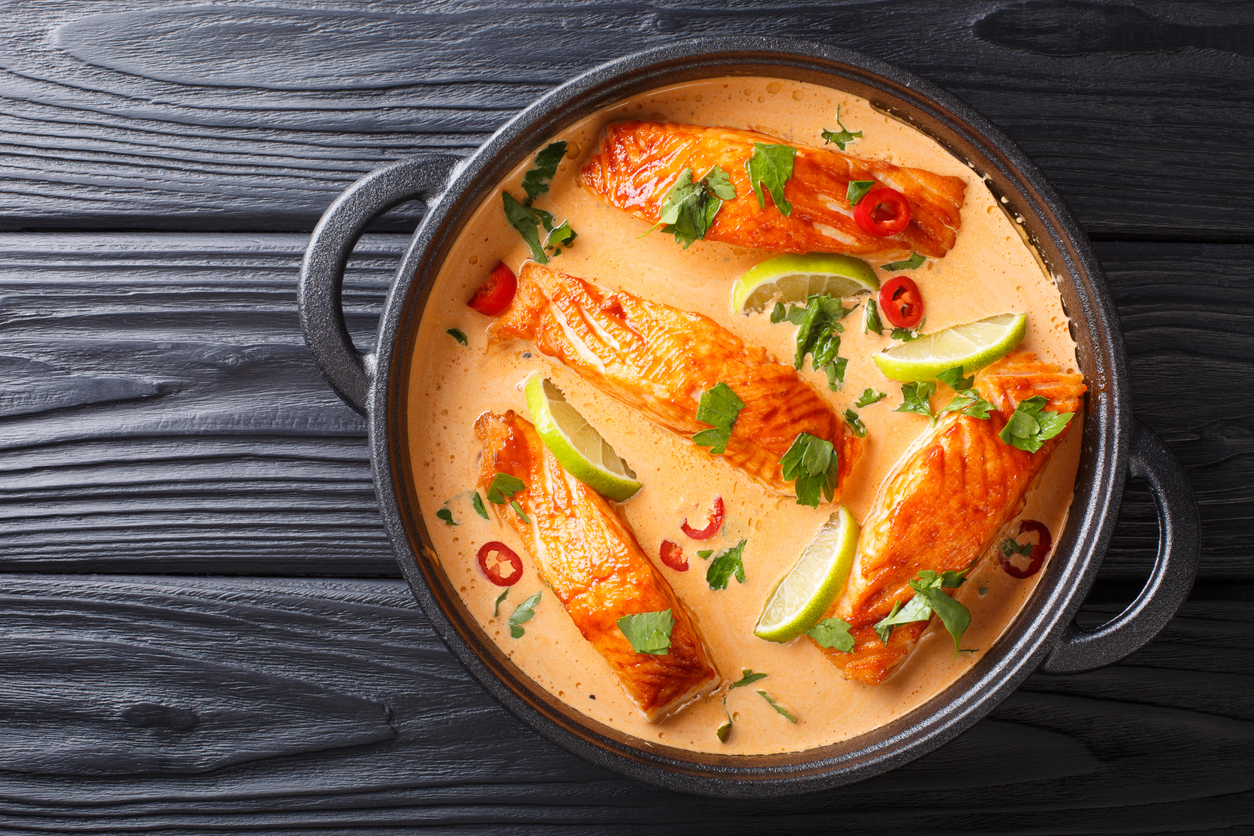 Ingredients
4 salmon fillets
Kosher salt
freshly ground black pepper
1 tablespoon of vegetable oil
1 shallot, thinly sliced
1 tablespoon of red curry paste
2 cloves of garlic, minced
2 tablespoon of freshly minced ginger
1 can of coconut milk
1 tablespoon of sriracha
1 tbsp. fish sauce
Cooked rice, for serving
Lime wedges, for serving
Freshly chopped cilantro, for serving
Instructions
Season salmon with salt and pepper. In a large skillet over medium heat, heat oil. Add salmon, skin side down and cook until golden, about 5 minutes per side. Remove from skillet and place on a plate.
Return skillet over medium heat and add shallots. Cook until golden and soft, 3 minutes. Add curry paste, garlic, and ginger and cook until paste is darkened and fragrant, 1 minute. Reduce heat slightly and slowly whisk in coconut milk, then add sriracha and fish sauce and bring to a simmer. Return salmon to skillet and let simmer until flakes easily with a fork and internal temperature reaches 145 degrees Celsius, about 15 minutes depending on thickness of salmon. Spoon sauce over salmon and stir sauce occasionally. Add more sriracha or fish sauce to taste.
Spoon sauce over salmon and serve with rice, limes, and topped with cilantro.
This recipe was found on delish.com